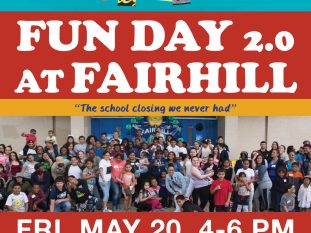 PAST EVENT: reForm Fun Day 2.0 at Fairhill
4:00pm-6:00pm
Friday, 5/20/16
reForm presents:
FUN DAY 2.0 at Fairhill
"The school closing we never had"
Friday, May 20th, 4:00-6:00PM
Fairhill School
601 W. Somerset St., Philadelphia, PA 19133
Come reconnect with the Fairhill Family at this second reForm FUN DAY at Fairhill… upgraded to 2.0!
Former Fairhill students, teachers, and parents are invited, as well as anyone who cares about education and our communities. There will be food, music, activities, fun, and reflection. This event is free and open to the public.
For more info: (267) 578-6580
www.reForm-project.org
facebook.com/reform.project
——————————————————————-
"El cierre de escuela que nunca tuvimos"
Viernes, 20 de Mayo, 4:00-6:00PM
Fairhill School
601 W. Somerset St., Philadelphia, PA 19133
Vengan y vuelva a conectarse con la familia de Fairhill, en esta segunda reForm FUN DAY at Fairhill… actualizado a 2.0!
Los ex alumnos, maestros, y padres de Fairhill están invitados, así como cualquier persona que se preocupa por la educación y nuestras comunidades. Habrá comida, música, actividades, diversión y reflexión. Este evento es gratuito y abierto al público.
Para más información: (267) 587-6580
www.reForm-project.org
facebook.com/reform.project